Nut is my diva. She spends more time looking in the mirror and complimenting herself than anyone I know. That's okay though, right? Healthy self-esteem. And she's quick to tell other people how cute they look too so I think it all balances out. This morning she informed me she wanted to wear her Halloween skirt to school (yes, my 3 year old not only has her wardrobe memorized but also gets to pick out her own clothes). I hadn't gotten any pictures of her in yet though and when I looked out the front door and caught of glimpse of her in all her fashionista glory, I figured I might as well take some. As soon as she saw the phone come out of my purse, she was in full model mode.
I told her to smile and look cute for the camera and this is what I get: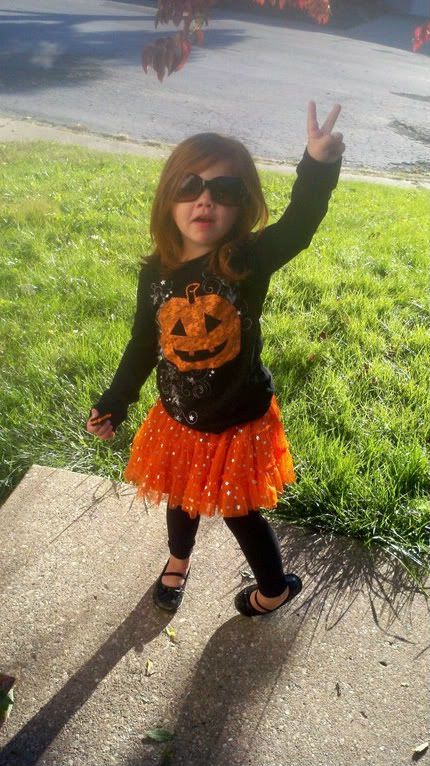 I asked her what she was doing and she said, "I'm peace out'ing!"
I call this one her celebrity I'm-too-cool-for-this-crap pose:
I'm not really sure where she picked up the "Faaaabulous!" pose (secretly I wonder how many episodes of RHONJ she watched with my mom when she babysat them), but I have to admit it is pretty damn funny.
Christmas cards photos should be fun this year. She would have continued posing all morning if we weren't running late for school and instead had to settle for looking through my phone at all her shots and congratulating herself (and me) on her new clothes:
"You buyed me this outfit, Mommy? Pat yourself on the back for a job well done!"
Well then.
*pats self on back*